"I used to sit beside him on the rocks in the sun and watch the waves roll in. He was a little cruiser."
Now Julie Graham's little mate has gone – tragically and needlessly taken. "It is just so, so sad and really hard to take."
'He' was Cody, 30cm of adult breeding male blue penguin who lived on Mauao.
A real character by all accounts, a 'surfie' of the penguin world, really laid back. "A kind of dreads, tan and boardshorts type of guy," says the Western Bay Wildlife Trust chairperson.
But then last week Cody was found ensnared by nylon fishing line in a tree at the mouth of his burrow. He had died a slow agonising death from starvation.
"I could have coped had it been a natural accident, one that happens in the wild," says Julia.
"But this was avoidable and he died in such a horrific way. There was nothing quick about the death of that penguin."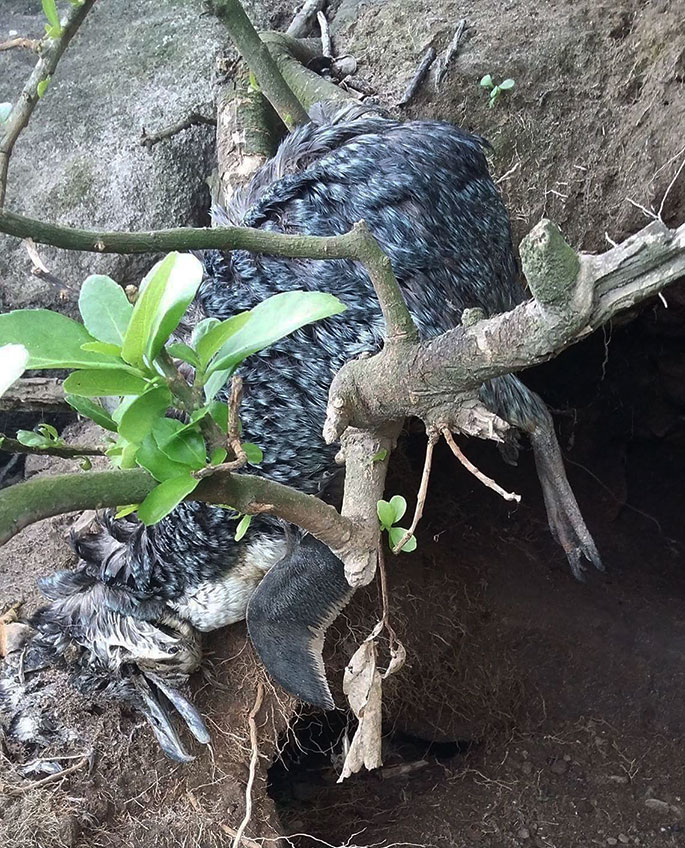 Julia and another trustee went out to check on Cody late last week as part of a university project. "I saw him hanging over his burrow and thought it was a natural accident. But when I went to check for his microchip I noticed all the fishing line tangled around his legs and the branch. He was stuck there."
His partner would probably have come back to the burrow every night and waddled straight past him hanging there in front of the hole. And she would have been powerless to help him.
Julia knew the penguin very well. Cody's burrow is one of the breeding burrows she was monitoring. "It's like losing a personal friend. Very, very sad."
The irony is that Cody had lived on the brink for years. He survived heavy oiling in the Rena disaster of October 2011. He survived his nest being destroyed by drunks and he survived an attack from a seal outside his burrow. Then just last year he lost two sets of chicks after vandals blocked the entrance to his nest with bottles, preventing the parents from feeding their babies.
But then he was undone by something as simple as a piece of fishing line.
Cody was just seven or eight and so this big little man of the Mount probably had another 16 or 17 years of living to do as a breeding male.
"I was a write-off for the rest of the day after finding him," says Julia. "Couldn't go to work, couldn't do anything. It was so needless and so pointless."
Now Julia is appealing to better nature. "Be respectful. These rocky areas you are fishing from at the base of The Mount are home to other inhabitants that have to live there permanently."
Julia says sometimes fishermen do get their lines snagged. "But that doesn't stop you picking up another piece of fishing line that you see as you walk past the rocks.
'We all love fishing but not at the expense of our wildlife."
And her plea isn't just directed at fishermen. "Take your rubbish off Mauao with you. Be careful and be considerate.
"If anyone sees fishing line pick it up and take it with you. Because this has been heartbreaking for us."
Cody's body was removed from the site for two reasons. First, so his partner can find another breeding mate and possibly re-use the burrow. And also Julia needed to check the microchip to confirm it was Cody.
Later Cody was returned to Mauao and he was buried close to where he lived and died.
"He was such a good natured penguin. A lot of them can get very defensive and aggressive but Cody was a cruiser. I will miss my moments with him."
You can learn more about the little blue penguins during Conservation Week from September 10-18. The wildlife trust will running its guided night tours again.
Subscribe to our weekly Newsletter
Email: