Jean Crane takes gardening beyond the garden path, from virtual gardens and poetry to cool hacks.
Not wanting her friends and fellow members of Greerton Garden Club to get stuck in a lockdown low in 2020, Jean had a clever idea of how they could enjoy each other's gardens while at home.
She created what she names 'Virtual Garden Rambles'. Calling on those with gaze-worthy gardens, Jean had club members send her photos of their florals before working her virtual magic.
"I put [the photos] together on the computer and made up a nice page so [club members] could walk around somebody's garden by looking at the pictures.
"…They all enjoyed that," says Jean, who thinks gardening was a 'godsend' during the lockdowns because it "gave you something to get out and do".
Paradise of poems
Gardens and poetry – it's a delightful duo that you can find in Jean's home garden. With Mediterranean, Japanese, 'enchanted' gardens and more, Jean's garden is split into different 'garden rooms' with special poems she's written to match each space.
"When people walk around my garden, they don't just look at the plants…they can read something [too]," says Jean.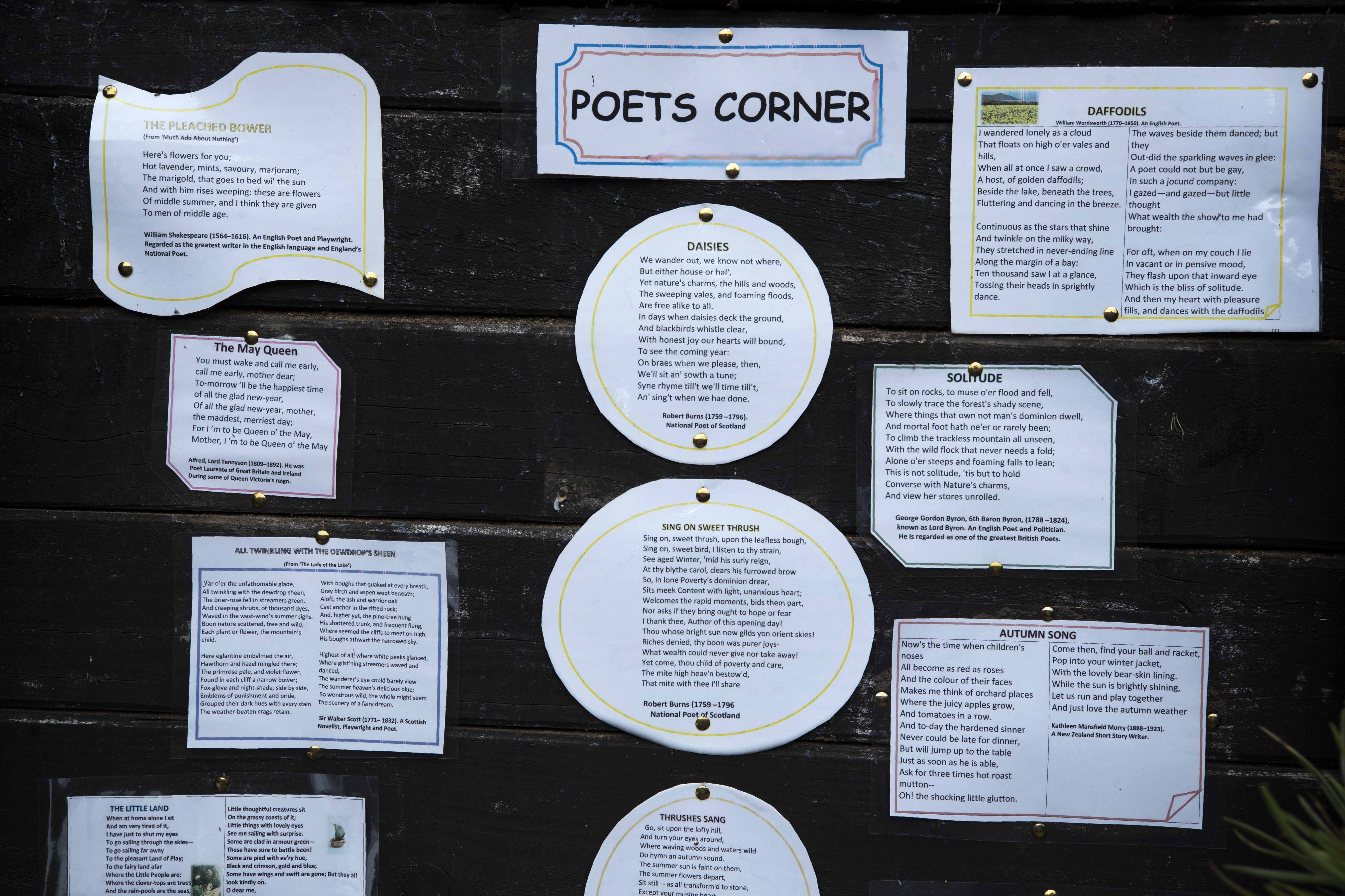 Jean's Poet's corner.
Being a fellow poem lover, I asked Jean for a sneaky snippet from one of her poems. She kindly obliged.
"Cherry blossoms on the trees,
Fluttering downwards in the breeze,
Lilac bush with perfume sweet,
A fragrance that is hard to beat" This is an extract from 'Our Modest Little Garden' 2017, written by Jean. Isn't that just lovely?

Frigid florals
Gearing up for winter, Jean shared a hack for getting the most out of winter blooms. Because the soil doesn't get cold enough here in the Bay, winter flower bulbs can be given a boost by putting "them in the fridge for a month," says Jean.
"Then take them out and put them in your garden or your pots, and they should flower quite nicely."
This is suitable for tulips, daffodils, freesias, ranunculus, anemones, bluebells and hyacinths. Thanks Jean!
If you're someone like Jean, that loves gardening, creativity or you just want to try something new, the Greerton Garden Club is a great way to "mix with like-minded people and develop friendships," says Jean. The club meets every second Monday of the month at 1pm at St James Union Church Hall.
Subscribe to our weekly Newsletter
Email: