Not many people get to enjoy a parent's 102nd birthday, but Bellevue resident Raewyn Scrivener got to do just that recently.
Mum Thelma Joyce Cooke (nee Fausett) – a granddaughter of some of New Zealand's first Irish settlers in 1865 – turned 102 on April 26 at her residence in Blockhouse Bay, Auckland.
'Joyce' for short, an ex-Mount Maunganui resident, grew up in Ararimu and is of Irish and Danish descent. "She's the granddaughter of John and Sarah Fausett from Northern Ireland, Enniskillen," says Raewyn.
Joyce grew up in Ararimu, South Auckland, and went to school on a horse named 'Queenie'. She played the piano, mandolin, and violin. She was a seamstress sewing uniforms for the war effort. Then she met and married the late Ray Cooke from Papakura.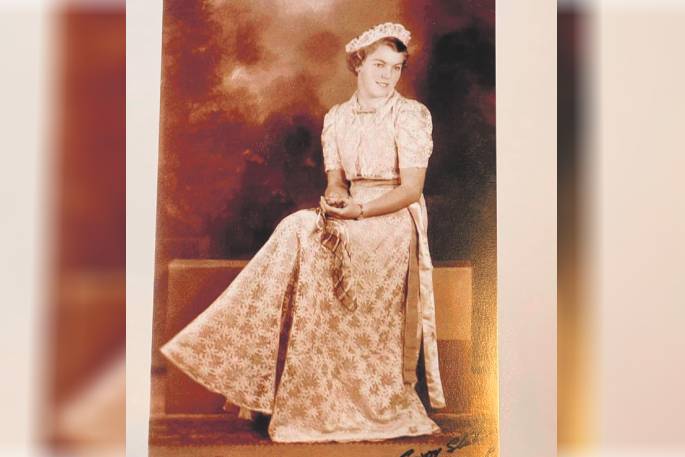 Joyce, on her engagement to Ray Cooke in 1938.
"He was a soldier, champion cyclist, boxer trainer cabinetmaker, and hand-craft fret worker. He worked for Sunny Wall at the Mount furniture shop through the 1950s," says Raewyn.
The couple had two children, Garry and Raewyn – and today Joyce has numerous grandchildren and great-grandchildren.
Garry and Raewyn grew up at the Mount – when the stretch from Mauao to Papamoa was pines dotted with houses – after the family moved there in 1950.
Joyce became superintendent of St John's nursing cadets, and drove an ambulance for eight years from 1954-1962. A voluntary effort, her name is on the wall of Papamoa's ambulance station.
"She played tennis and badminton, made all the clothes for our family – and made ice cream and chocolate. She also had a great garden at our house on Campbell Rd, with lots of veggies, fruit trees, and chooks for eggs," says Raewyn.
"She was also well-known for doing home hair perms, especially in Matapihi. She'd go to people's homes with her equipment."
Raewyn says Joyce, who now lives in Peacehaven Rest Home in Auckland, still crochets blankets for the Romanian orphans. "She also still knits, play cards and Scrabble. She's won seven medals in numerous events, including singing, in the home."
Raewyn put on a surprise party with the Pacific Elvis (Johnny Angel) impersonator and world-renowned Country music fiddler Marian Burns for Joyce's 102nd birthday back in April.
This year a book has been published on Joyce's family titled 'The Fausetts, Svendsen, Hyland, and Cooke' by Toni Anne after the Ararimu community became frustrated there was no historical account of some of the district's pioneering families. Copies can be purchased from Raewyn on 0212071769.
Subscribe to our weekly Newsletter
Email: