Otūmoetai couple Glynnis and Neville Wilson are celebrating, as they hit the amazing milestone of reaching their 60th wedding anniversary last week.
The pair have been married since May 19, 1962, and met each other in September 1959 while Glynnis was travelling to play in a pipe band.
Neville first asked Glynnis to dance after they were the last ones on the bench during their night out.
Glynnis laughs as she explains she made a few mistakes upon their first interaction.
"I asked if he was a Scotsman, when he was really a Yorkshireman; and I also assumed he was still in school when he was 20 years old working in Cambridge," says Glynnis.
"He couldn't have thought I was too bad though, as he ended up writing to me."
Glynnis received a letter from Neville and laughed as she read that it was written in the early hours after the night they'd met.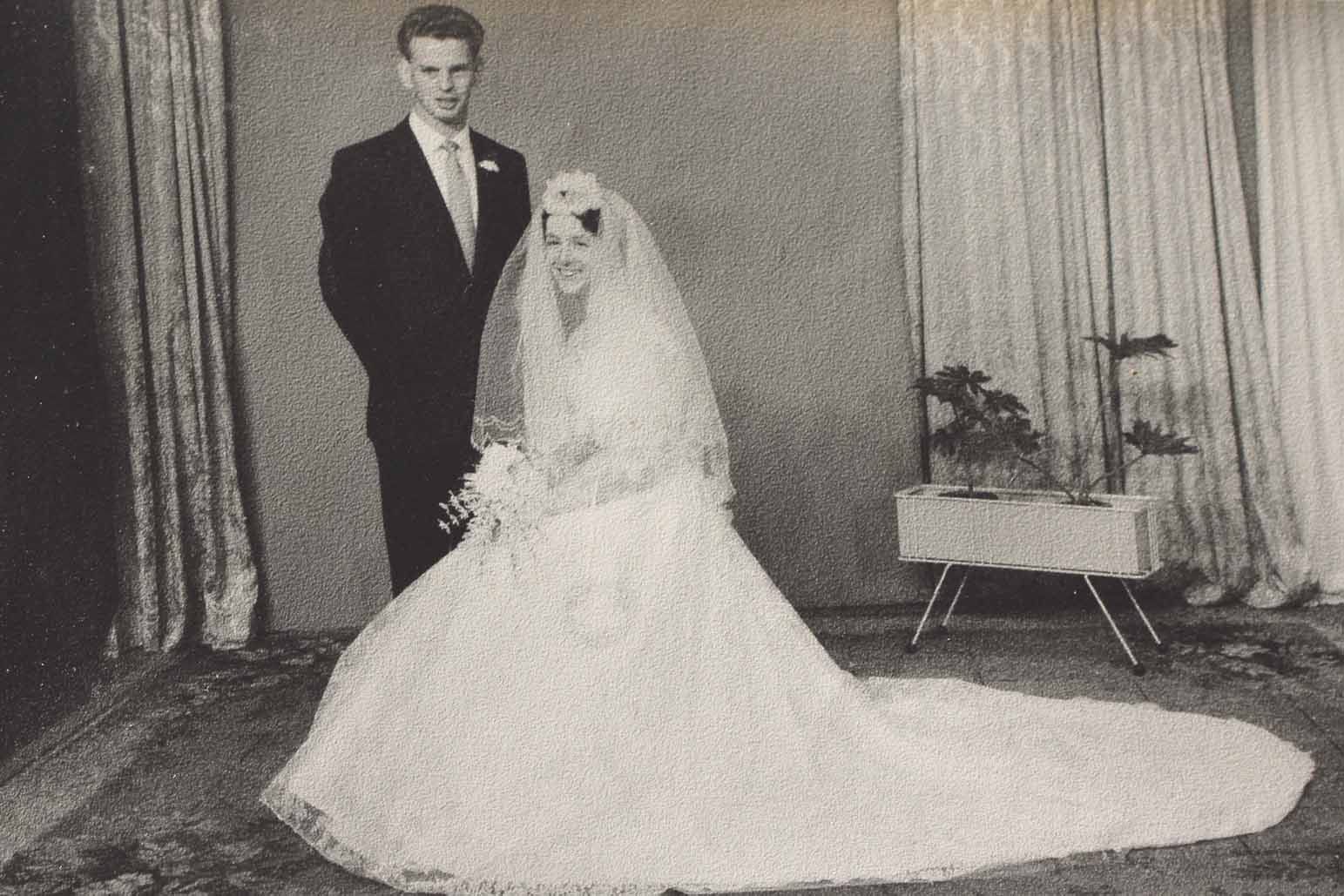 Glynnis' and Neville's wedding day in 1962. Photo: Supplied.
Asking the father
Fast-forward a few years and the couple were planning on how Neville could ask Glynnis' father for her hand in marriage.
Glynnis and her sister asked if their father could drop of them off at the picture theatre, it was then that Neville showed up to her parents' house on his motorbike to ask the big question.
"They kept telling me they'd take me down to the theatre to meet them. I think after I said I was there to see them the penny dropped," says Neville.
"It was Budget night so we listened to that for a while. Then I asked for her hand in marriage. I knew I was in safe territory as her parents were very lovely to me. I was still very nervous."
Neville proposed to Glynnis by saying he wasn't going back to England as planned, and he wanted to marry a woman but hadn't asked her yet. "That was my romantic proposal," Neville laughs.
A dry wedding
The pair were married at the Methodist Church in Te Aroha. Glynnis says they were married in May as it was the quiet season at the Waitoa New Zealand Dairy Company, which is where Neville was working at the time. "It was a lovely wedding, a dry wedding I might add," says Glynnis. "We had about 80 guests."
Nowadays, the couple live in Otūmoetai, have three children, Craig, 59, Debbie, 57, and David, 53, plus nine grandchildren, and eight great-grandchildren. "We love them all, and we are so very proud of them," says Glynnis
"I was saying to Glynnis the other day, look what we've started; this family is just growing and growing," says Neville.
No secret
The pair say there is no secret to a long marriage, but their dedication and commitment to their partnership is a big help. "It's always been a partnership," says Neville.
"We've always had the same bank accounts, always made the decisions together. We didn't make these rules when we got married, it just happened naturally.
"We don't watch each other's spending, we don't get involved in each other's hobbies and we let each other spend without calculating who spends more."
"We got married at a time where wedding vows meant something," adds Glynnis.
After 60 years, the pair says it wasn't always easy, however they're extremely happy they stuck to their commitment. Glynnis and Neville are now also very involved with St Colomba Presbyterian Church. Neville, is an elder and session clerk, and Glynnis oversees the prayer chain.
Subscribe to our weekly Newsletter
Email: